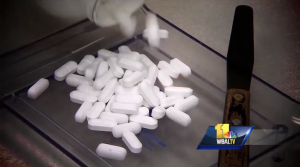 WBAL,
February 15, 2017
David Collins
ANNAPOLIS, Md. —
In Session 2017, the high cost of prescription drugs is an issue lawmakers in Annapolis are trying to address. Two bills are under consideration. One requires drug companies to disclose why the medicine costs so much. The other gives the state attorney general the power to go after price gouging.
Maryland is now ground zero in the battle over curbing the cost of prescription medication, and the fight is also taking place over the air waves.
There are dueling radio ads: one supporting legislation aimed at curbing the skyrocketing price of prescriptions, and the other is push back by the pharmaceutical industry.
Caught in the ad war crossfire is Prince George's County resident Bonnita Spikes. She can't afford to pay for Alzheimer's medication and now relies on others' generosity.
"I have people helping me work towards getting it," Spikes said.
Spikes is not alone. Emergency rooms see people making hard choices: to eat or pay for medication, or pay bills or buy medication.
"A young man who stopped taking his seizure medications because it was too expensive. He ended up in a coma and he died," Baltimore City Health Commissioner Dr. Leana Wen said.
Two bills under consideration by the General Assembly address the issue.
"To give the AG the authority to stop price gouging and to make sure the drug companies disclose the basis of their high-priced drugs," said Vinnie Demarco, with Health Care for All.
"We've seen across the country and in Maryland increases in the price of generic drugs that are inexplicable," Maryland Attorney General Brian Frosh said.
It's not just those taking medication who are impacted.
"We have seen a doubling of the cost of prescription drugs for our employees that the tax payers wind up having to pay as a result of this price gouging that is taking place," Baltimore County Executive Kevin Kamenentz said.
The bills have the backing of a majority of lawmakers in both chambers. Community support is strong, including clergy, voters and the NAACP.
"Health and true access to care is a basic human right, and removing those barriers to care is a matter of social justice," said Gerald Stansbury, with the NAACP.
Rep. Elijah Cummings wrote a letter of support because it's doubtful Congress will address it.
Last modified: February 16, 2017