FOR IMMEDIATE RELEASE
May 18, 2020
Contact: Vincent DeMarco, 410-591-9162
Maryland Citizens' Health Initiative Launches Digital Ad Campaign Against Governor's Veto of Funding Bill for Prescription Drug Affordability Board
Veto Threatens Work of the Board and Aligns Governor with Pharmaceutical Industry
Maryland Citizens' Health Initiative (MCHI) today launched a digital ad campaign to educate the public about the damage done by Governor Hogan's veto of legislation that would establish a dedicated funding source to support the work of the Maryland Prescription Drug Affordability Board.
The measure, (SB 669/HB 1095), would have assessed a small fee on pharmaceutical corporations, pharmacy benefits managers, and insurers with the proceeds used to sustain and expand the Board's work to bring down the high cost of prescription drugs in Maryland. Passage of the bill would also have returned $750,000 to the state, which had advanced the Board a loan to launch its operations.
MCHI's $15,000 digital ad campaign will reach 1,000,000 people. It will educate the public about the danger the veto poses to the work of the Board and will call on the General Assembly to override the veto in its next legislative session.
"We are doing an aggressive ad campaign to make sure the public knows about the governor's misguided veto," said Maryland Citizens' Health Initiative President Vincent DeMarco. "The governor decided to stand with the big drug corporations instead of the people of Maryland. This veto threatens the vital work of the Board, which means drug costs will remain out of reach for many. The veto also costs the state revenue to repay money that was advanced to the Board at a time when the state needs resources. We will continue to inform the public about the governor's action, and we urge the General Assembly to override this veto and make sure the Board has the resources it needs to do its important work."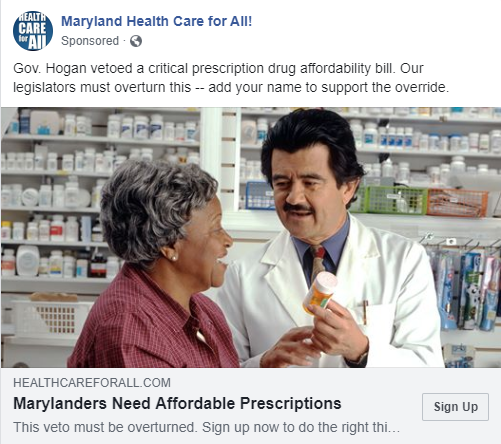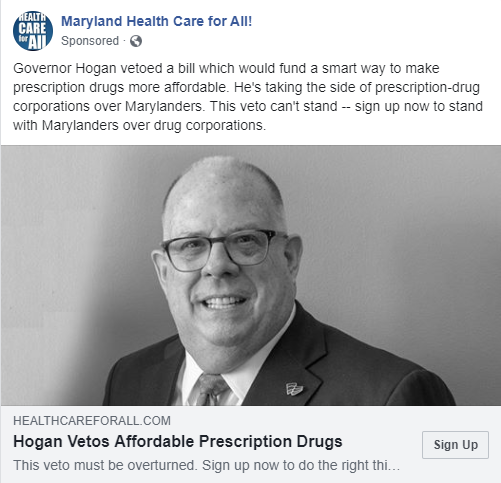 Last modified: May 18, 2020