Maryland leaders say increasing the drink tax by 10-cents would reduce underage drinking.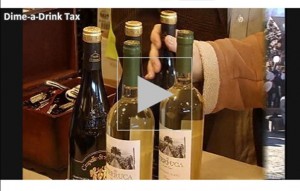 NBC Washington DC
February 16, 2011
The county executives of Maryland's two largest counties will gather with religious leaders to support a 10-cent increase in the state's alcohol tax.
Montgomery County Executive Ike Leggett and Prince George's County Executive Rushern Baker are scheduled to attend the event on Wednesday at a church in Annapolis near the Maryland State House.
The 10-cent tax (House Bill 121, Senate Bill 168) would apply to each drink sold at restaurants and stores. Supporters say the increase would help reduce underage drinking and pay health care costs for the most vulnerable in the state — people with mental health challenges, physical disabilities and addictions.
That would be an extra 50 cents for Maryland…
"There are thousands of people disabled people waiting for supplies and services," Ken Capone, the public policy coordinator for People on the Go, told NBC Washington's Chris Gordon. "The dime a drink tax will help them."
"A dime to save a life," Leggett said. "Let's get it passed this session."
Baker said even in bad economic times, "People find a way to buy beer and wine."
The state's alcohol industry is concerned that way will include trips in to D.C. or Delaware.
Alcohol industry officials said a dime a drink is deceptive, Gordon reported. When measured by gallons sold, the tax could add 500 percent or more to the cost of wine and liquor, according to industry officials.
The tax "will add a dollar to a bottle of wine, and that's substantial," said Peter Finkelstein, wine manager at Mills Fine Wine & Spirits.
While the alcohol industry finds health care for the state's most vulnerable a laudable goal, officials don't think it should be the burden of the alcohol industry to pay for it. Vincent De Marco, of Maryland Citizens' Health Initiative, said it's the alcohol industry's turn to bat.
"This tax hasn't been raised since 1972, on beer and wine, or on liquor since 1955," he said.
Advocates say their proposal would raise about $215 million. A hearing on the tax will be held next week.
Last modified: February 17, 2011