Prescription Drug Affordability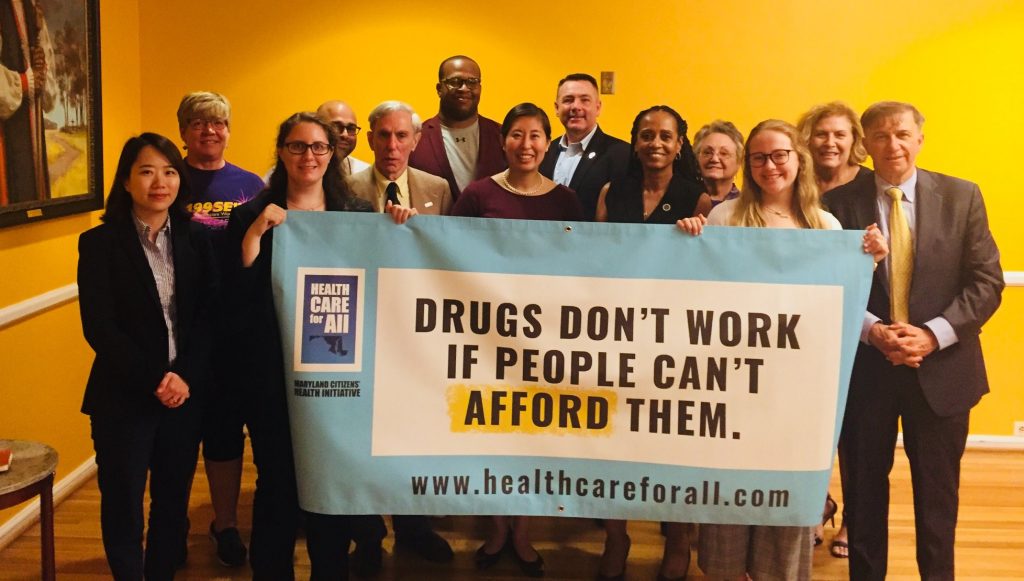 Nobody should have to choose between basic necessities like paying for rent and groceries or the prescription drugs they need to live.
Maryland has made considerable gains in ensuring that quality healthcare is more affordable and accessible for residents of our state. However, expensive life-saving drugs– some of which are close to six figures for treatment– threaten to derail the progress made in expanding health coverage. To contain rising healthcare costs, we must contain skyrocketing prescription drug costs.
THE PRESCRIPTION DRUG AFFORDABILITY BOARD
In 2019 Maryland became the first state in the nation to have a Prescription Drug Affordability Board which will work to make high cost prescription drugs more affordable for Marylanders (Summary of the Law, Polling of Maryland's Support)
In 2021, the Maryland General Assembly overrode Governor Larry's Hogans veto of legislation (SB 669/HB 1095) to create a permanent funding source for the Board by assessing a small fee on pharmaceutical corporations, pharmacy benefits managers, and insurers. By vetoing this critical piece of legislation, the Governor put the interests of the rich pharmaceutical corporations over the concerns of Maryland patients. During the COVID-19 pandemic we need the Board more than ever to help make sure Marylanders can afford the vaccines and treatments they will need. The majority of Marylanders disagreed with Governor Hogan's veto. We urged the Maryland General Assembly to override the veto. Thank you to the Maryland General Assembly for ensuring that the Board has the funds that it needs.
TAKE ACTION
1) Sign up for our email list to receive action alerts.
2) Share your story through our web form about how the high cost of prescription medication is impacting you, or call (410) 235-9000.
3) Encourage your organization join the hundreds of faith groups, businesses, labor unions, and other organizations that make up the Prescription Drug Affordability Coalition by signing the Prescription Drug Affordability Resolution. (PDF of resolution, list of members and logo flyer)
4) Read the most recent news about the Board
5) Visit the Board's website at pdab.maryland.gov
6) **RESCHEDULING DUE TO COVID-19** Attend a listening session to share your experiences with a Board member.
PAST ADVOCACY:
2018 ELIMINATION OF THE "GAG RULE" ON PHARMACISTS
In 2018, together we helped Maryland become the eleventh state in the nation to ban the so-called "gag rule" by which some Pharmaceutical Benefit Managers prohibit pharmacists from telling consumers about the least expensive way to purchase their drugs.
2017 MARYLAND'S ANTI-PRICE GOUGING LAW
In 2017, we helped Maryland become the first state to grant the Attorney General the authority to hold pharmaceutical companies accountable for "unconscionable" increases in the prices of generic or off-patent drugs. Unfortunately the Fourth Circuit Court of Appeals ruled that this law is unconstitutional.