Maryland Needs the Affordable Care Act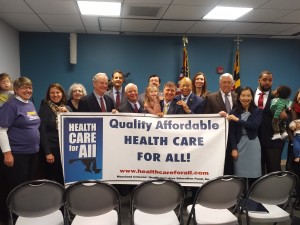 The Patient Protection and Affordable Care Act (ACA) is ACA) is a great success in Maryland. Reversing this life-saving law would have very real impact on our community. To date, 347,000 individuals in the state have gained coverage since the ACA was implemented. They could lose their coverage if the ACA is entirely or partially repealed.
72,175 individuals in the state who received cost-sharing reductions to lower out-of-pocket costs such as deductibles, co-pays, and coinsurance are now at risk of having healthcare become unaffordable.
2,953,834 individuals in the state who now have private health insurance that covers preventive services without any co-pays, coinsurance, or deductibles stand to lose this access.
Women in the state who can now purchase insurance for the same price as men are at risk of being charged more for insurance if opponents eliminate the ACA's ban on gender rating in the individual and small group markets. Before the ACA, women paid up to 39% more than men for their health insurance.
Roughly 975,000 individuals in the state who have pre-existing health conditions are at risk of having their coverage rescinded, being denied coverage, or being charged significantly more for coverage.
The state is at risk of losing $2.41 billion in federal Medicaid dollars if the ACA' Medicaid expansion is eliminated.
86,073 seniors who have saved an average of $1,158 each as a result of closing the Medicare prescription drug "donut hole" gap in coverage stand to lose this critical help going forward.
604,509 seniors who have received free preventive care services thanks to ACA provisions requiring coverage of annual wellness visits and eliminating cost-sharing for many recommended preventive services covered by Medicare Part B, such as cancer screenings, are at risk of losing access to these services if congressional Republicans go forward with their plan to repeal the ACA.
The Maryland Health Care for All! Coalition is championing an effort to preserve these gains and prevent repeal of the ACA. Join us—share your story about what the ACA means to you. Click here to share your story.
In the event that the ACA is repealed or significantly altered at the federal level, Maryland will need to respond quickly and strategically. We are working to create legislation that would establish a commission to monitor and make recommendations regarding how to preserve coverage and minimize uncertainty in our health care system and economy. This bill will be introduced in the 2017 session of the Maryland General Assembly. (Bill coming soon.) Click here to join our email list to monitor this campaign.